A foundation discipline for Pony Club, Rally encompasses the three disciplines of Dressage, Show Jumping and Cross Country. Added in competition is the aspect of Stable Management. Together, the four phases allow members to show off their skills as well-rounded riders and their knowledge of horsemanship.
A full description of Pony Club Rally is available at the discipline page of the CPC website: www.canadianponyclub.org/what-we-do.php?page=rallies.
---
Rally in Central Ontario Region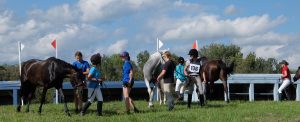 Working Rally
Working Rally is a popular weekend-long event that brings together members and their mounts at Saddlewood each spring. Riders have lessons in the flat, jumping, and the hunter ring or cross country schooling area. Stable management and hands-on horse care is an important part of the experience.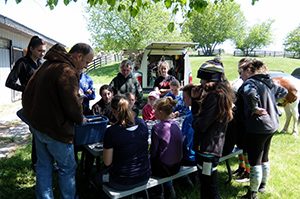 2015 Working Rally stable management session
Fun Rally 
COR members enjoy the annual Fun Rally event, hosted each year in early summer by Toronto North York Pony Club. This event allows riders to participate in Dressage, Show Jumping and Cross-country phases in a non-competitive format, each at the level of their choosing.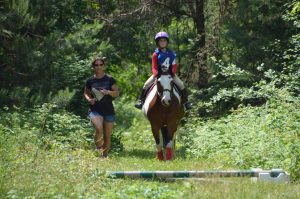 ---
Archived Results
A/B/C Rally
2006 Results | 2004 Results | 2003 Results
D Rally
2007 Results | 2006 Results | 2005 Results | 2004 Results | 2003 Results
---
Visit the Central Ontario Region Home Page
---
Visit the Canadian Pony Club Home Page
[/vc_column_text][/vc_column][/vc_row]